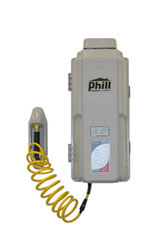 Imagine being able to refuel your car at home or work and never needing to go to a gas station again!
Phill is an exciting product that lets you fill your natural gas vehicle with fuel, in your garage at home, from your home natural gas line.

Vehicle Refueling Appliances are in production!! Can we give you a quote??
Please see our equipment page link above for availability of used units.
Available from BRC FuelMaker !
HRA- Home Units- Phill, starting at $4177.00 (1/2 gge per hour)
(There are now 3 models of Phill for 2013 in 3600 or 3000 psi- Deluxe, Basic & Smart Model)
VRA - Small Q's- FMQ2-36 or FMQ-2, starting at $762100 (1 gge per hour)
Big Q- FMQ8-36 or FMQ 10, starting at $24,256.00! (4 gge per hour)
DHL Express shipping direct to us from the BRC FuelMaker factory on non-stock equipment!
The full line of Bauer compressors and fueling equipment now available!!